Now fans have ported Super Mario 64 to Nintendo 3DS
Reverse-engineered code allows N64 game to run natively on the handheld, following PC port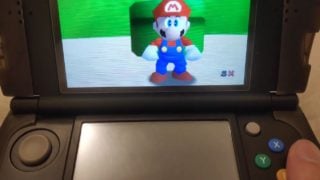 Following an unofficial PC release earlier this year, fans have now natively ported Super Mario 64 to Nintendo 3DS.
The reverse-engineered port was released online on Wednesday and reportedly allows users with modified Nintendo 3DS handhelds to run Super Mario 64 natively, without graphics issues and at a solid 30fps.
If the unofficial Super Mario 64 PC port is any indication, modders will likely improve the game's handheld performance even further via future updates. You can see Mario 64 3DS in action via the videos below.
The 3DS port was made possible by a fan project which reverse-engineered the Nintendo 64 game's source code.
Because the code was created in a 'clean room' environment and not influenced by leaked data, it's technically legal – at least in its barebones form, stripped of any official game assets.
It was previously possible to play Super Mario 64 on 3DS via 2004's DS port.
Released in May, the unofficial Super Mario 64 PC port has spawned an active modding community and fans have improved the game's graphics with a host of mods including upscaled texture packs and a 60FPS patch.
It's even possible to implement ray-tracing in Mario 64 via the third-party Reshade app.
In unrelated news, this month Nintendo suffered a significant leak of classic game data, including code for early versions of Super Mario 64.
Dataminers have already reassembled prototype enemies, levels and scenery originally intended for the N64 launch game.
Most significantly, a model for Luigi has also been uncovered in the leaked game files, who was originally intended to appear as a second playable character in the game.
It's understood that Mario 64 is set to be re-released for Nintendo Switch later this year as part of the Super Mario Bros.' 35th anniversary.
As first revealed by VGC, Nintendo will reveal plans to re-release most of Super Mario's 35-year back catalogue this year, remastered for Nintendo Switch, including 1996's Super Mario 64, 2002's Super Mario Sunshine and 2007's Super Mario Galaxy.
Related Products
Other Products
Some external links on this page are affiliate links, if you click on our affiliate links and make a purchase we might receive a commission.