Mario 3D World files suggest Nintendo cancelled plans for an extra character
Voices and animations said to have been found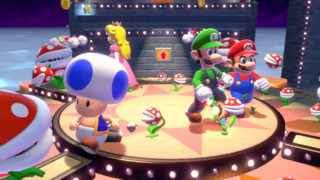 A datamine of Super Mario 3D World's Switch port has reportedly uncovered cancelled plans for a sixth playable character.
According to Twitter user Nickolox, the Switch version of the platformer contains voice files and over 200 animations for Toadette.
The user even managed to load one of the voice files into the game's selection screen:
According to Nickolox, no model for Toadette appears to be present in the game's files. It's possible that Nintendo could yet add the playable character via DLC, but no post-launch plans were shared during Wednesday's Direct.
The standalone game Bowser's Fury is by far the biggest addition to the 3D World package on Switch, though Nintendo has made several tweaks to the game and added a photo mode, in addition to online multiplayer.
The Wii U port arrives as part of Super Mario's 35th anniversary celebrations. In addition to 3D All-Stars – a collection of classic 3D Mario games – Nintendo has released several additional Mario games for Switch.
On Wednesday, it detailed plans to add Super Mario items to Animal Crossing: New Horizons.
VGC wrote in our Super Mario 3D World + Bowser's Fury review: "Bowser's Fury is a decent excuse to revisit one of the pound-for-pound most enjoyable 3D Mario games of recent years. Like Mario, it's a game that doesn't stand still – and if you didn't pick it up the first time on Wii U, neither should you."
---
Nintendo Direct news Feb 2021
---