Major Smash Bros tournament 'shut down by Nintendo'
Smash World Tour also accuses a rival tournament of meddling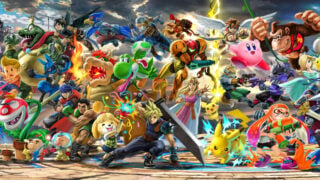 Nintendo has allegedly shut down a large Smash Bros. fan tournament at the last minute, its organisers have claimed.
Smash World Tour, which was set to have its annual championships on December 9 to 11 with a prize pool of $250,000, will now seemingly no longer go ahead, with Nintendo being blamed for the cancellation and rival tournament organiser Panda being implicated in the decision.
Nintendo has denied some of the allegations.
In a statement posted by the organisers of the event, it was claimed that despite having productive conversations with Nintendo about receiving an ongoing licence to host Smash Bros tournaments, Nintendo suddenly stated that the Smash World Tour could no longer go ahead.
"Without any warning, we received notice the night before Thanksgiving from Nintendo that we could no longer operate," it said. "This was especially shocking given our discourse with Nintendo the past twelve months."
The statement also accused the CEO and co-founder of Panda Global, a esports organisation with its own officially Nintendo-licensed Smash Bros tournament, of trying to sabotage Smash World Tour's 2022 events by telling tournament organisers last year that it was shutting down.
"We specifically held off announcing 2022's Smash World Tour at [the 2021 Championshops], per the request of Nintendo," it said. "The aim was to get licensed before our 2022 Tour was announced and kicked off in March.
"During that time period of December to March, we continued our talks with Nintendo. For the first time, we felt like Nintendo was being consistently straightforward, transparent, and direct in answering our questions. We also began finalizing details of the 2022 Smash World Tour with various tournament organizers around the world, this time with more confidence than ever.
"However, we quickly found that many organizers were concerned about joining up in 2022. They told us that they had been told by Alan, the CEO and co-founder of Panda, that we were going to get shut down and were not coming back in 2022."
According to the statement, Nintendo reassured Smash World Tour that Panda's licence was not exclusive, and that it would speak to the Panda CEO about his alleged behaviour.
The statement claimed that despite applying for a licence in January, Nintendo was slow to process the application – particularly after the Panda Cup was announced in May – and only informed Smash World Tour in November that it could no longer continue, just a few weeks before the annual championships.
Following the publication of this statement, a Nintendo spokesperson gave its own statement to Kotaku that appeared to tell a different story.
"Unfortunately after continuous conversations with Smash World Tour, and after giving the same deep consideration we apply to any potential partner, we were unable to come to an agreement with SWT for a full circuit in 2023," Nintendo's statement read.
"Nintendo did not request any changes to or cancellation of remaining events in 2022, including the 2022 Championship event, considering the negative impact on the players who were already planning to participate."
However, Smash World Tour then responsed with a second statement, reiterating points made in the original. "To be clear, we did not even submit an application for 2023 yet, the license application was for the 2022 Championships (submitted in April)," it read.
"Nintendo including all 2023 activity was an addition we were not even expecting. In our call that accompanied the statement, we asked multiple times if we would be able to continue to operate without a license as we had in years past with the same "unofficial" understanding with Nintendo. We were told point blank that those 'times are over'.
"They followed up the call with their statement in writing, again confirming both the 2022 Championships and all 2023 activity were in the exact same boat."
Earlier this year the long-running fighting game tournament EVO revealed that Super Smash Bros would not be part of its 2022 event, stating that Nintendo had opted out of it.
It was unclear why Nintendo opted to remove Super Smash Bros from the event, but at the time it was believed it may have been to do with Nintendo's partnership with Panda to create "the first officially licensed circuit for Super Smash Bros Ultimate and Super Smash Bros Melee for North America".
Related Products
Other Products
Some external links on this page are affiliate links, if you click on our affiliate links and make a purchase we might receive a commission.