MAGFest criticised for public 'jab' at games website Kotaku
The gaming event questioned the publication's "journalistic integrity" on signage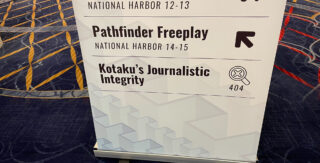 Gaming event MAGFest has received criticism for using public signage appearing to mock the games website Kotaku, after the publication reported on incidences of Covid at last year's show.
MAGFest, which is currently ongoing, features panels and events centred around gaming and music culture. This year's event, which began yesterday, has drawn attention on social media after an attendee noticed a reference to the games site.
Posted to Twitter by an attendee, the sign lists the directions of various attractions at MAGFest, before ending with a listing for "Kotaku's Journalistic Integrity" next to a 404 not found icon.
Update
The MAGFest official Twitter account has now acknowledged the issue. Replying to Patrick Klepek's tweet, it wrote "Hey MAGFest community, we've heard you loud & clear that a joke we printed on our signage this year absolutely did not land.
"For clarity, it was intended to poke fun at one line in an article written about our COVID response last year. It was immediately pulled from the floor."
The apology continued into a second tweet, again directed to Patrick and not the attendee who initially raised the issue.
"We understand that most people did not receive it as such, and that it made people feel unsafe. This was a huge oversight and lack of awareness on our part. We're so deeply sorry to our community and @Kotaku for this error, and we will do better with our banter in the future."
The apology has led many to ask why this was not posted as a normal tweet on the MAGFest account, as opposed to a reply to a journalist, where it is likely to get far less attention.
The post rapidly gained traction on Twitter, with some senior members of the games industry and media condemning it, particularly its perceived reference to the Gamergate movement.
Kotaku was also at the center of the Gamergate harassment campaign in 2014. The movement fostered harassment of women and minorities in the games industry, with specific focussed paid to Kotaku due to a false allegation that a staff member favourably reviewed a game due to a relationship with the developer.
The movement, which largely emerged from 4chan and Reddit, would go on to have a large part in sparking the alt-right movement.
It's also been noted by some that Kotaku reported last year on MAGFest allegedly serving as a spreader event for the Omicron variant of Covid19. It's been suggested that coverage of this incident is what could have led to the seeming retaliation from MAGFest.
Frank Cifaldi, co-director of the Video Game History foundation, referred to the signage as a 'dogwhistle', which is the use of suggestive language to garner support from a particular group without provoking opposition.
Cifaldi said he was due to give a pair of talks at MAGfest and now felt less excited about them.
Responding to the criticism, MAGfest's communications director Dac Croach claimed the signage was a "friendly jab."
"We still love Kotaku!," Croach wrote on Twitter. "I'll put up a little heart and "jk" on the sign so people know it's in jest."
It's since been claimed the signage has been removed.
Commenting on the incident, Kotaku writer Alyssa Mercante wrote: "I have been at Kotaku for < 3 months and I have never seen so much frothing hate over the most body temperature takes it's like the ghost of gamergate lingers over every post, tweet, and comment".