Live services made up 71% of EA's total business last year
They accounted for $5.4 billion in net bookings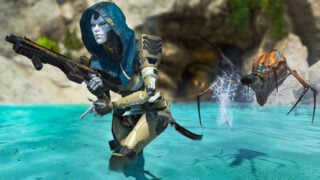 Live services accounted for 71% of Electronic Arts' total business during its fiscal year ended March 31, 2022.
It was a record year for the publisher, which reported total net bookings of $7.5 billion, up 21% year-over-year.
"Live services net bookings grew 17% year on year to nearly $5.4 billion, and made up over 71% of our total business," said EA's chief financial officer Chris Suh. "Full game sales were up 34% to $2.1 billion."
Apex Legends Season 13: Saviors Battle Pass Trailer
The free-to-play Apex Legends, which is amongst the top live service games in the industry, generated around $1 billion in net bookings during the period.
EA's live services net bookings were up from $4.6 billion during the previous fiscal year ended in March 2021, when they also accounted for over 70% of its total business.
One year ago, former EA CFO Blake Jorgensen commented: "There couldn't be a more dramatic illustration of the way the business has evolved, with our focus on engagement and ongoing entertainment now generating three-quarters of our net bookings.
"To give some perspective, that $4.6 billion is equivalent to the sale of around 130 million copies of console games."
With many big publishers leaning more heavily into live service games these days, Summer Game Fest creator Geoff Keighley suggested there may be fewer blockbuster announcements at June's event than might have been the case in previous years.
"It's just not how companies are set up today," he said. "I mean, they're more live service games. I look at the landscape now and the most exciting stuff for me is coming from a lot of these independent studios, or venture-backed companies, versus the big, traditional publishers."