Listed: Every confirmed Pokémon in Pokémon Scarlet and Pokémon Violet
Here's every creature confirmed so far for Generation 9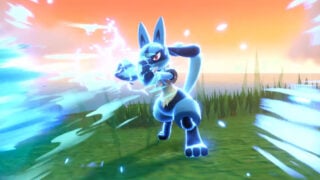 Pokémon Scarlet and Pokémon Violet have been announced. During the trailer, which was revealed at Pokemon Presents, several Pokemon were confirmed to be part of the game.
These Pokémon span across several regions, and even include three new starters, a grass type cat names Sprigatito, a fire type crocodile named Fuecoco and a water type named Quaxly.
Interestingly, the game's official website lists them as 'partner Pokemon' rather than starter.
Pokemon Scarlet and Violet Guides:
Pokemon Scarlet and Violet walkthrough, tips, and Pokemon locations | Roaring Moon location | Iron Valiant location | Shiny sandwich recipes | Pokemon Scarlet and Violet Legendaries | How to find Shiny Pokemon in Scarlet and Violet
The full list of confirmed Pokémon in Pokémon Scarlet and Pokémon Violet are:
Sprigatito
Fuecoco
Quaxly
Starly
Hoppip
Cherubi
Petilil
Psyduck
Drifloom
Combee
Meowth
Stonjourner
Pellipper
Clauncher
Swablu
Pikachu
Blissey
Seviper
Larvitar
Magnimite
Lucario
The trailer ended with an image describing the games as "An all-new entry in the Pokémon series releasing worldwide in Late 2022."
The last mainline entry in the Pokémon franchise, Pokémon Sword and Pokémon Shield released in 2019.
Pokémon Scarlet and Pokémon Violet were the only new Pokémon games announced as part of Pokémon Presents.
The second Detective Pikachu game is still in development, according to a new recruitment advertisement for its developer Creatures Inc.
As posted on Creatures Inc's recruitment website, and translated by VGC, a programmer referred to as 'KT' reveals that he is "working on the sequel to Detective Pikachu, programming the drawing area, while also creating a system in the Environment Development Office that will serve as the foundation for future game production in general."
The news will come as a relief to some Pokémon fans because information on the sequel to the 3DS original has been thin on the ground since its announcement three years ago.
Related Products
Other Products
Some external links on this page are affiliate links, if you click on our affiliate links and make a purchase we might receive a commission.