LG has launched its own Animal Crossing islands – and you can visit
Electronic firm creates dream islands to promote its new OLED TVs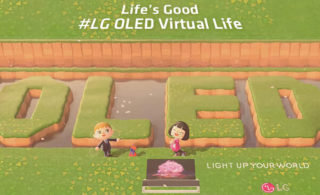 Consumer electronics company LG has launched its own dream islands in Animal Crossing to promote its line of OLED televisions.
There are two islands to visit, split into four different themes; Cinema, Gallery, Gaming and Sports.
The first island focuses on LG's OLED TV sets themselves, whereas the second island focuses on the quality of light emitted by the televisions.
"We are the first consumer electronics brand to use this game software for marketing," stated LG in a press release (as reported by Famitsu). "It is a virtual space where people can experience the appeal of our OLED TVs in a more fun way while exploring the islands."
Players can visit the OLED island by entering the Dream Address DA-7677-3136-5978, while the 'Lit' island can be found by entering DA-2218-2553-1949.
LG is just the latest in a line of companies that have capitalised on the popularity of Animal Crossing to promote their own products.
The practise became so popular that Nintendo eventually had to release a list of guidelines businesses must adhere to when using the game for promotional purposes.
In October, Joe Biden launched his own island in the game in a bid to mobilise voters in the US election.
But Nintendo's new guidelines ask businesses and organisations to refrain from bringing politics into the game. The rules also state businesses must not financially benefit from the game in any way.
"While our services and products are generally for personal use only, we understand there may be situations in which businesses and organizations would like to use or reference the game in relation to their business," Nintendo said in its statement at the time.
"As such, we would like to share a few guidelines with those businesses, organizations, and anyone representing them, to preserve the experience for the millions of people enjoying the game recreationally.
"If we see your activity is not following these guidelines or is damaging or having bad influence on the community, we may ask you to stop such activity or usage of our contents, and take appropriate actions, including prohibiting your future business usage of the game."