Legends of Kingdom Rush is headed to Steam in June
Turn-based tactics RPG makes the jump from Apple Arcade to PC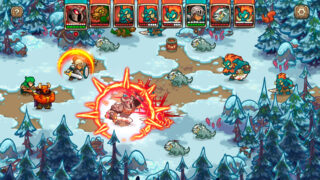 Ironhide Game Studio will release a PC version of Legends of Kingdom Rush on Steam this summer.
The RPG is available to add to Steam wishlists now ahead of its planned release in June.
Uruguayan developer and publisher Ironhide first released Legends of Kingdom Rush for Apple Arcade in June 2021.
Legends of Kingdom Rush Official trailer
The latest entry in the Kingdom Rush series is the first to feature tactical turn-based gameplay with roguelike elements.
The studio says: "The Kingdom and the rest of the known world are now under the control of the dreadful Dark Army. However, a new threat bigger than the Dark Lord himself unites the heroes of the realm pushing the notions of good and evil aside.
"Fight on a turn-based grid moving around the combat area. Switch and match your heroes and companions until you find your ideal team for each battle!"
Legends of Kingdom Rush features:
100+ narrative events while you fight your way through lush forests, rugged mountains, and devastated wastelands.
6 Legendary Heroes, a holy paladin, dark assassin, an evil demon, voodoo witch, a forest defender, and an elven avenger will be awaiting your command.
12 Companion Heroes, with different skills and powers, will not hesitate to fight by your side. Pierce your enemies with your Ranger, curse them with your sorceress, or even block killing blows with your Knight. Make your barbarian go berserk or create mayhem with your bombardier!
Highly replayable adventures for limitless fun! Fight your way through lush forests, rugged mountains, and devastated wastelands.
80+ achievements for you to unlock.
Arena Mode: compete with your friends to reach the top of the leader board by defeating the daily challenge