Legal action threatened as Hideo Kojima falsely linked to Shinzo Abe assassination
A French politician and at least two news outlets spread the false connection this week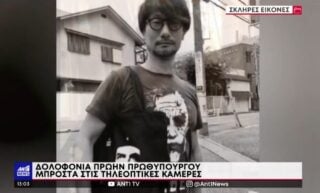 Kojima Productions has threatened legal action against those falsely linking game designer Hideo Kojima to this week's assassination of former Japanese prime minister Shinzo Abe.
On Friday, Abe was assassinated while delivering a speech for Japan's upcoming elections. A suspect was arrested at the scene and has admitted to the shooting.
However, social media posts comparing the alleged assassin's appearance to Kojima led to serious instances of misinformation.
On Twitter, a far-right French politician Damien Rieu retweeted images of Kojima with the comment: "The extreme left kills".
The tweet was eventually deleted and the politician eventually published an apology.
"I naively took a joke for information," he wrote. "I didn't think we could make humor about the assassination of a man but I was wrong not to check before sharing. My apologies to Hideo Kojima and to the fans of Metal Gear."
In some countries the false link even made the news: In Greece, a news broadcast showed images of the Metal Gear Solid designer while discussing Shinzo Abe's alleged killer.
An Iranian news agency is also alleged to have used images of Kojima when covering the assassination.
On Friday, the incidents caused Hideo Kojima to trend on Twitter as some 35,000 tweets discussed "video game developer Hideo Kojima… misidentified as the suspected shooter".
While Kojima Productions did not immediately acknowledge the situation, on Saturday it published a statement claiming it would consider legal action against "some cases" of "fake news".
"Kojima Productions strongly condemns the spread of fake news and rumors that convey false information," it said. "We do not tolerate such libel and will consider taking legal action in some cases."
Shinzo Abe was shot while giving a speech in the city of Nara on Friday morning. Security at the scene tackled 41-year-old suspect Tetsuya Yamagami at the scene, who later admitted shooting Abe with a homemade gun, and said he had a grudge against a "specific organisation".