Legacy of Kain: Soul Reaver pulled from Steam for 'important updates'
Game temporarily removed from sale as Square Enix tells customers to "check back soon"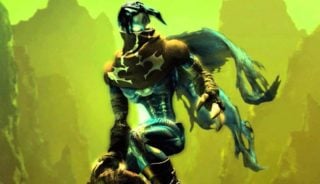 This article was updated on 29/03 with additional comment from Square Enix.
Square Enix has temporarily pulled Legacy of Kain: Soul Reaver from sale on Steam.
A message on the game's product page reads: "Square Enix has temporarily removed this title from sale to work on some important updates. Please check back soon!"
In an additional comment provided to VGC, the company said: "Legacy of Kain: Soul Reaver will be made available for purchase on Steam again soon. We're sorry for the inconvenience."
It's unclear exactly when the game was removed, but it's still available to purchase on fellow digital distribution platform GOG.
Originally released in 1999, the second entry in the Legacy of Kain series was developed by Crystal Dynamics and directed by Amy Hennig, the former writer and director of Naughty Dog's Uncharted series.
The 3D action-adventure game, in which players assume the role of vampire Raziel on a revenge mission to destroy his creator Kain, was critically acclaimed and received a number of sequels, with 2003's Legacy of Kain: Defiance the most recent entry in the series.
In the past decade, multiple unsuccessful attempts have been made to revive the Legacy of Kain series.
UK-based Climax Studios (Silent Hill: Origins, Silent Hill: Shattered Memories) spent three years working on Legacy of Kain: Dead Sun, a reboot of sorts set hundreds of years after Soul Reaver, before Square Enix cancelled the unannounced project in 2012, according to Eurogamer.
Rocket League maker Psyonix also worked on Nosgoth, a competitive multiplayer game based on the dormant Legacy of Kain IP and once reportedly intended to launch alongside Climax's title, before it too was cancelled in April 2016.
Forever Entertainment, the Polish developer of 2020's Panzer Dragoon: Remake, will release multiple remakes based on a single Square Enix franchise, it was confirmed earlier this month.
The unannounced remakes will reportedly feature new visuals, while maintaining the same gameplay and scenario from the original game versions.
Forever Entertainment will reportedly receive over 50 percent of sales for each copy of the games sold across all platforms. This figure potentially rules out it working on Square Enix's biggest franchises such as Final Fantasy.
Square Enix's franchise library also includes the likes of Parasite Eve, Chrono, Valkyrie Profile and Star Ocean.