Leaked Uncharted movie trailer includes a classic set-piece from the games
UPDATE: Sony has released the official Uncharted movie trailer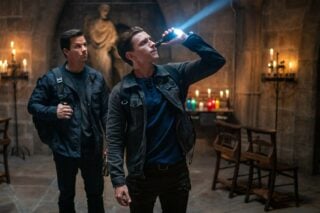 A teaser trailer for the Uncharted movie has leaked ahead of its expected release this week.
It includes clips of a set-piece inspired by Uncharted 3: Drake's Deception's Stowaway chapter, which sees the protagonist attempting to stop himself being ejected from a cargo plane's ramp door while engaging in mid-air combat.
Rather than following the plot of the games, which have sold over 41 million copies, the movie tells a prequel story featuring Nathan Drake (Tom Holland) as a young treasure hunter learning from his mentor Victor Sullivan (Mark Wahlberg).
UPDATE 21/10/21: Sony has released the official Uncharted movie trailer, which runs for two-and-a-half-minutes.
Uncharted - Official Trailer (HD)
ORIGINAL STORY CONTINUES: Directed by Ruben Fleischer (Venom, Zombieland), the Uncharted movie is the first feature film from PlayStation Productions, a studio formed by Sony Interactive Entertainment to adapt its original game properties for film and television in partnership with Sony Pictures.
Following a six-month delay, the Uncharted film is scheduled for release on February 18, 2022.
Sony recently announced plans to release Uncharted 4: A Thief's End and its expansion Uncharted: The Lost Legacy for PS5 and PC. The remaster, titled Uncharted: Legacy of Thieves Collection, will hit PS5 in early 2022, while the PC version, which is being developed by Iron Galaxy, will be released "shortly after".
PlayStation Productions is also working on a The Last of Us HBO TV series, a live-action Ghost of Tsushima movie helmed by John Wick director Chad Stahelski, and a Twisted Metal TV series from Deadpool's writers, among other projects.