League of Legends reportedly in development for mobile
Tencent and Riot Games said to be working on the project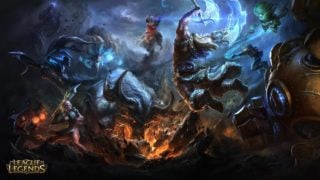 A mobile version of League of Legends is reportedly in development.
That's according to Reuters sources, who suggest Riot Games has been working on the project with parent company Tencent for over a year, although it's not expected to be released in 2019.
It's claimed the two companies had been at loggerheads for years about how to best adapt the massively popular PC battle arena game for a wider audience, with Riot previously rejecting a proposal to create a mobile version of the title, which would be expected to be especially popular in Asia.
That led Tencent to instead launch League of Legends-like mobile MOBA Honour of Kings, which became the world's highest grossing multiplayer online battle arena game, and a less successful western adaptation of the title called Arena of Valor.
Riot is said to have been aggravated by Tencent's strategy and its impact on League of Legends' audience and sales.
League of Legends generated $1.4 billion globally in 2018, down 21% year-on-year, compared to Honour of Kings' $1.3 billion, according to SuperData Research.
"League of Legends is not doing as well as it used to and so Riot badly needs a new way to monetise the game, especially considering that it is Riot's only game," said Gu Tianyi, an analyst with games and eSports research firm Newzoo.