Layton's Mystery Journey Deluxe Edition coming West
Series made its home console debut with the game's Japanese release last year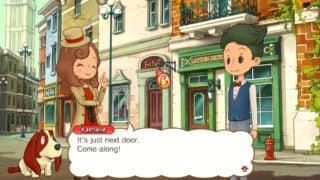 Nintendo has confirmed plans to release Layton's Mystery Journey: Katrielle and the Millionaires' Conspiracy – Deluxe Edition in the West on November 8.
Katrielle and the Millionaires' Conspiracy was originally released on 3DS in 2017, before Level-5's long-running puzzle adventure series made its home console debut in Japan last August with Layton's Mystery Journey DX, an enhanced Nintendo Switch port.
Nintendo says the Deluxe Edition includes over 40 new puzzles, 50 new outfits, plus layout improvements and enhanced graphics.
According to the game's blurb: "In this entry in the Layton mystery-puzzle series, the famous Professor Hershel Layton has gone missing, and it is up to his daughter Katrielle – a smart and spirited young lady with a knack of arriving at the truth in spite of paltry evidence – to take centre-stage as our new protagonist."
Katrielle and the Millionaires' Conspiracy will be playable at the Japan Expo event in France this weekend.
During Nintendo's 79th annual general meeting of shareholders last week, Shigeru Miyamoto highlighted the challenges involved in creating modern adventure games, pointing to "massive" localisation costs and waning appeal among younger players.
"However," he added, "designing adventure game mechanics is fun, and are used well in Capcom's Ace Attorney and Level-5's Professor Layton series, so while we can still have hope for the genre, please understand that actively making one is hard in the current mainstream."