Kerbal Space Program 2 has been delayed by a year, months after staff poaching allegations
KSP2 will now release sometime in 2022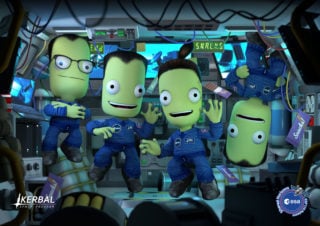 Kerbal Space Program 2 could arrive more than a year later than originally planned, publisher Take-Two said on Thursday.
The space sim sequel, which was originally due to release in late 2021, will now arrive sometime during 2022.
In a statement posted on the game's official forums, creative director Nate Simpson acknowledged fan frustration but emphasised that his team would not compromise on quality.
"We knew we were taking on an immense technical and creative challenge when we started this project," he said. "We've heard time and again from this community that quality is paramount, and we feel the same way.
"It's not enough to deliver a bunch of new features – those features have to be woven together into a stable, polished whole. We're creating a reliable foundation on which players and modders alike can build for another decade or more. That involves solving problems that have never been solved before, and that takes time."
He added: "We've got a team of talented people working every challenge from every angle, and because I'm lucky enough to get a front row seat, I can see the huge leaps we're making.
"It's killing us how much of this we have to keep under our hats until the game is released. We can't express how much we're looking forward to soaking up all your reactions and discoveries on that day."
The delay news arrives several months after a report alleged that publisher Take-Two pulled the KSP2 project from developer Star Theory and then poached most of its staff, eventually leading to the company's closure.
That's according to an extensive report on Bloomberg, which investigates KSP2's unexpected switch to a new, internal development studio earlier this year.
According to the report, Star Theory's development staff each received an unsolicited LinkedIn message last December, in which a Take-Two producer revealed it was setting up a new studio to keep working on the game Star Theory had been developing.
The message reportedly said Take-Two was looking to hire all of Star Theory's staff in order to make the transition happen smoothly.
Star Theory founders Bob Berry and Jonathan reportedly told staff the next week that they had been in discussions about selling their company to Take-Two but were dissatisfied with the terms.
Despite reportedly encouraging their employees to stay at the company in an attempt to secure a new project, more than half of KSP2's development team are claimed to have eventually joined Take-Two's new studio Intercept Games.
By March, as the coronavirus pandemic disrupted much of the global economy, Star Theory had closed, Bloomberg reports.
Related Products
God of War Ragnarök (PS5)
Other Products
Some external links on this page are affiliate links, if you click on our affiliate links and make a purchase we might receive a commission.