Konami's sports games drive strong financials
Revenue and profit up at the Pro Evolution Soccer publisher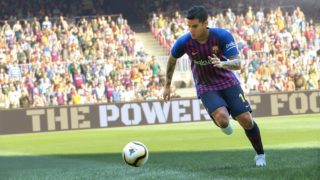 Konami has reported increased revenue and profit, driven by the strong performance of its sports games.
Company-wide sales for the fiscal year ended March 31, 2019 came in at ¥262.5 billion ($2.39 billion/£1.84 billion), up 9.6% year-over-year, with Konami's games-focused Digital Entertainment segment accounting for over half of the total.
The firm posted a net profit of ¥34.2 billion ($311.8 million/£240 million), up 12.1% year-over-year.
It also reported record operating profit – up 11.8% year-over-year to ¥50.5 billion ($460.2 million/£354.2 million) – for the second consecutive year.
The company, which celebrated the 50th anniversary of its founding on March 21 this year, said group revenue and operating profit "exceeded those for the previous fiscal year because various series titles continued to perform strongly, mainly including our soccer and baseball series titles in the Digital Entertainment business".
Among its highlights, Konami cited the strong performance of its Professional Baseball Spirits game series, growing Pro Evolution Soccer 2019 sales after a major game update in Q3 and the continued "favourable performance" of the title's myClub online mode.
The firm also hosted professional baseball esports championship finals and the qualifying rounds of the Pro Evolution Soccer League World Tour.
For the current business year ending in March 2020, Konami expects a 7.5% increase in revenues to ¥270 billion yen. However, it's also forecasting a 4.2% drop in profits to ¥30 billion yen, and a 3.5% decline in operating profits to ¥47 billion yen.