Konami insists it's taking criticism of eFootball 'very seriously' ahead of big update
The troubled PES successor will receive a major update next week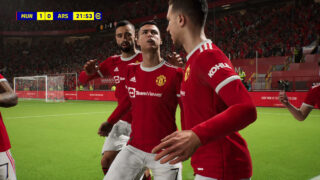 Konami has insisted it's taking feedback from eFootball players "very seriously", ahead of a major update that is aiming to deal with much of the criticism aimed at the launch game.
Version 1.0.0 will release on April 14, 2022, and will be considered the first 'main' release of the PES successor, with new features, balance updates and bug fixes.
The first version of eFootball was released in September 2021 to widespread criticism. The football simulator, which was widely panned for its poor gameplay and comical graphics, was named the worst reviewed game of 2021 by Metacritic.
In a statement issued to VGC, Konami said it believed the criticism was caused by several factors, including its move to a new engine and platforms.
"It's hard to point to one deciding aspect," a spokesperson said. "The incompletion of the game came as a result of multiple factors including the transition to a new football game engine, the support of next generation consoles such as PS5 and Xbox Series X|S, the change of play style to free to play and furthermore, we tried to deliver new eFootball 2022 for players as soon as possible.
"Resultantly, the game received harsh feedback about the quality. Since eFootball's launch back in September, however, we have prioritised improvements and corrections based on the feedback and opinions we received."
The spokesperson added: "We are taking the opinions of our players very seriously. Since the release last September, we have prioritised improvements and corrections based on the feedback and opinions we received. We will continue to work on the game's improvement and as always, the player's valued feedback is much appreciated."
Asked if the game's development team felt that the game was really ready back in September, the Konami spokesperson said the company had a "strong desire" to release the game as soon as possible.
"As answered in the previous question, we didn't have any plans to postpone the release because we ultimately had a strong desire to deliver the new eFootball 2022 game to users as soon as possible.
"Normally, we would release a new game in the autumn, parallel with the start of the European football season. We apologise to all players who have been waiting for the release."
VGC attended an eFootball preview event earlier this week in which we got to play a pre-release build of Version 1.0.0, to see whether Konami had managed to pull off the improvements it had promised.
You can read our full thoughts in our eFootball Version 1.0.0 hands-on preview, but if you want to see more of the game in action, you can via the video above.
Related Products
Other Products
Some external links on this page are affiliate links, if you click on our affiliate links and make a purchase we might receive a commission.