Konami has delayed eFootball's big November update to 2022 and refunded DLC
Today's first major bug fix patch is overshadowed as the game is set to remain unchanged for months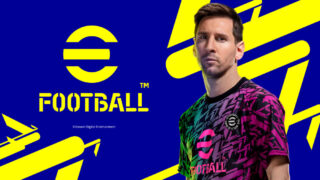 Konami has announced that eFootball's first big update, which was due to release this month, has been delayed until Spring 2022.
The version 1.0 update promises to introduce a number of new modes, including Creative Teams, in which players build their own squad similar to FIFA's Ultimate Team (or the myClub feature in previous PES games).
This update was also supposed to introduce a season pass system and microtransactions, and since September Konami has been selling a $40 DLC pack which includes special players for use when the update launches.
As part of the delay, Konami is now in the process of refunding these packs, though it also points out that any players who pre-ordered it will now have to delete their game and re-download it.
eFootball 2022 launch trailer
"We would like to inform you that the v1.0.0 update for eFootball 2022, scheduled to be released on November 11, 2021, has been postponed until Spring 2022," a statement from Konami reads.
"Also, we would like to announce the cancellation and automatic refunds of eFootball 2022 Premium Player Pack, which includes items that can only be used in-game after the v1.0.0 update.
"We have been working diligently towards distributing an update that will bring new content to the game, including a new mode where you can strengthen and play with an original team, as well as support for mobile devices on November 11, 2021.
"Unfortunately, we have concluded that more time is needed to deliver the product in the quality that will meet the expectations of our users and have decided to postpone the delivery."
At the moment, the game only offers exhibition matches with a handful of teams, as well as timed challenges where players can choose from a different small selection of teams to play a series of online games.
Konami previously conceded that the game is "basically a demo" in this state, and that the update planned for this month was to mark its first major content launch.
Despite pushing back its first large update for a number of months, Konami is still rolling out a patch today which fixes a number of the bugs that have been reported since launch.
The patch fixes more than 60 bugs, which are listed in the game's official patch notes.
These include floating players, strange facial animations, disappearing players, players missing the ball altogether when shooting and the referee "being trapped on the surface of the pitch during a match".
It also attempts to improve some of the most common complaints players have had about the game, including slow ball and player movement, slow input response and odd collision detection.
Whether this will be enough to keep players interested until the first big update until spring, however, remains to be seen.