Konami has finally confirmed a Silent Hill reveal event
The publisher will reveal "the latest updates" on the dormant horror series this week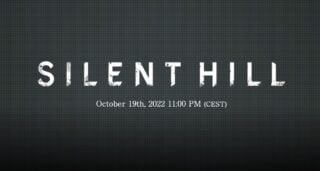 Following over a year of anticipation, Konami has confirmed it will share "the latest updates" for the Silent Hill series in a digital event this week.
It wrote on Sunday: "In your restless dreams, do you see that town? The latest updates for the SILENT HILL series, will be revealed during the #SILENTHILL Transmission on Wednesday, October 19th, at 2:00 PM. PDT"
A teaser website has also been launched for Silent Hill, with a countdown to the October 19 event.
The classic horror game series, which debuted on PSOne in 1999, hasn't seen a mainline instalment since 2012's Silent Hill: Downpour.
Original Silent Hill artist Masahiro Ito counted down to, and then retweeted the Silent Hill announcement on Sunday, suggesting he is involved.
Ito served as the Konami horror series' art director for its first three instalments, as well as designing many of the creatures that featured in the game.
In 2020, Ito confirmed he was working on a new project. Posting on Twitter, Ito said: "I'm working on a title as a core member. I hope the title won't be cancelled." He added: "About that, I can tell you nothing yet."
Notably, South Korea's Game Rating committee recently rated an unannounced Silent Hill game, "Silent Hill: The Short Message". The game's publisher is listed as UNIANA, a company which regularly publishes Konami games in South Korea.
VGC first reported last February that Konami was planning to revive the long-dormant horror game series.
One project said to be in development is a playable teaser. Alleged images for this project appeared online earlier this year, one of which appears to be concept art dated October 20, 2020, and signed by Masahiro Ito.
According to multiple reports, a Silent Hill 2 remake is also understood to be one of the games in active development. Images reportedly showing an early demo for the remake appeared online last month.
Christophe Gans, the director of the 2006 Silent Hill movie, has also reportedly written the script for a new live-action production.
One studio constantly linked to the Silent Hill franchise is The Medium studio Bloober Team. Last year the Polish developer announced a "strategic co-operation agreement" with Konami, months after Bloober's CEO claimed it was working on an existing horror IP from "a very famous gaming publisher".
Silent Hill's composer Akira Yamaoka even worked on Bloober's 2021 title The Medium and teased his next game project by stating that it was "the one you've been hoping to hear about."
Related Products
Some external links on this page are affiliate links, if you click on our affiliate links and make a purchase we might receive a commission.