Kirby and the Forgotten Land gets a March release date and a new trailer
Nintendo's upcoming open-world Kirby game includes co-op gameplay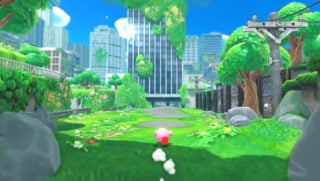 Nintendo has released a new trailer for Kirby and the Forgotten Land, and confirmed its release date.
The game will be available on Nintendo Switch on March 23.
The new trailer also shows off co-op gameplay for the first time, with player two able to control a Bandana Waddle Dee to help Kirby on his mission.
Kirby will be able to inhale enemies to gain their abilities as usual, and the trailer (which can be seen below) shows off some new abilities like the Drill (which lets him drill into the ground and attack enemies from beneath) and Ranger (which lets him attack distant enemies).
Kirby and the Forgotten Land - co-op trailer
The game was announced during a Nintendo Direct presentation in September 2021, but there's been no further information until today.
The game sees Kirby arriving in an unknown land, where he discovers that Waddle Dees are being kidnapped by a group of villains called the Beast Pack. It's up to Kirby and his new friend Elfilin to rescue the Waddle Dees.
Rather than the typical 2D side-scrolling platforming Kirby is known for, this new game will be a 3D platformer in which players will be able to freely move around in 3D arenas using familiar Kirby copy abilities.
Nintendo says the new game world is a land where "nature and a past civilization have fused in a series of areas packed with platforming challenges". It also includes Waddle Dee Town, the game's central hub which develops as more Waddle Dees are rescued.
Earlier last year, Kirby developer HAL Laboratory said it was looking forward to sharing the mascot's "next phase" with fans.
Kirby Star Allies director Shinyu Kumazaki wrote in an art book released in May: "Now, finally, we can move on to the next phase! I still try new things at work every day, talking with my colleagues about where to take the series next.
"Together with them, even if only to please a single fan, we're planning for the next stage of our future. The team is a culmination of the best aspects of the Kirby franchise, and we hope you'll look forward to what we have coming next."