Kingdoms of Amalur: Reckoning will be remastered this year
Update: Game officially confirmed following leak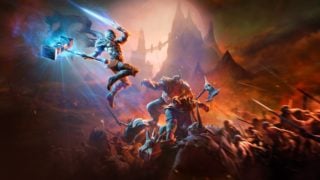 Electronic Arts' 2012 RPG, Kingdoms of Amalur: Reckoning will be remastered as 'Re-Reckoning' in August, a retail listing has revealed.
Amalur was originally released for Xbox 360, PS3 and PC to favourable reviews. The RPG features a world created by bestselling author R.A. Salvatore, Spawn creator Todd McFarlane, and Elder Scrolls IV: Oblivion lead designer Ken Rolston.
The new version of Amalur will feature improved visual fidelity, "refined gameplay" and include all of the original game's DLC packs, according to a listing on the Microsoft Store.
Update: An official Twitter account for the game has confirmed the leak:
Original story continues: Shortly after the original game's release, developer Big Huge Games and its parent company 38 Studios laid off their entire staff, after defaulting on loans provided by Rhode Island State.
38 Studios' collapse meant that pre-production on a sequel was scrapped, as well as what's reported to have been a significant amount of work dedicated to Project Copernicus, the Kingdoms of Amalur MMO.
The rights to Kingdoms of Amalur were acquired by THQ Nordic in 2018 and the company indicated its intention to release a remaster, but said it would need the approval or original publisher EA first.