Kingdoms of Amalur: Re-Reckoning studio working on a 'high profile THQ Nordic IP'
The studio has primarily worked on remasters of THQ Nordic properties in the last decade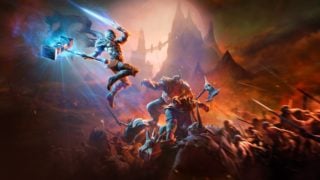 Kingdoms of Amalur: Re-Reckoning developer Kaiko is working on a "high profile THQ Nordic IP in the Action-Adventure genre," according to a job listing.
Kaiko, the studio behind Re-Reckoning, Red Faction Guerrilla Re-MARS-tered, Darksiders Warmastered Edition and Darksiders II Deathinitive Edition, has listed several job openings for the unannounced title.
Crucially, the listings state that it's an "original title," suggesting it won't be another remaster of a THQ Nordic property and is more likely a new original sequel or reboot of a THQ Nordic property.
Kaiko's last remaster, Kingdoms of Amalur: Re-Reckoning, was met with mixed reviews upon release.
In VGC's review by critic Ellen Rose, we called it a "disappointing remaster of a great RPG."
"I'm glad THQ Nordic saved Amalur from IP purgatory. This remaster might make more people aware of a great game, and finally gives PS4 players a way to play it alongside everyone else, but THQ Nordic and KAIKO could've really elevated it beyond some tweaks."
Shortly after the original game's release, developer Big Huge Games and its parent company 38 Studios laid off their entire staff, after defaulting on loans provided by Rhode Island State.
38 Studios' collapse meant that pre-production on a sequel was scrapped, as well as what's reported to have been a significant amount of work dedicated to Project Copernicus, the Kingdoms of Amalur MMO.
The rights to Kingdoms of Amalur were acquired by THQ Nordic in 2018, and the company indicated its intention to release a remaster, but said it would need the approval of the original publisher EA first.
Related Products
Other Products
Some external links on this page are affiliate links, if you click on our affiliate links and make a purchase we might receive a commission.