Kingdom Come: Deliverance and Aztez are free on the Epic Games Store
Strategy card battler Faeria will be free next week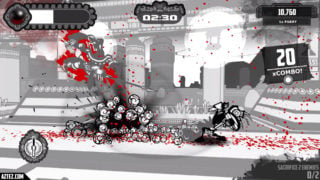 Kingdom Come: Deliverance and Aztez are now free to download from the Epic Games Store.
Normally priced at £24.99 on the Epic Games Store, Kingdom Come: Deliverance is an open-world RPG set in the Holy Roman Empire developed by Warhorse Studios.
Regularly priced at £14.99, Aztez is a hybrid of beat 'em up and turn-based strategy, set in the world of the Aztec Empire, from Team Colorblind.
They'll be available free on the Epic Games Store until 11am ET / 8am PT / 4pm UK on February 20, when they'll be replaced by strategy card battler Faeria.
It was announced in mid-January that the Epic Games Store's weekly free game promotion has been extended throughout 2020.
73 free games worth $1,455 had been given away and claimed over 200 million times since the promotion launched alongside the PC storefront in December 2018, Epic said at the time.
Epic also said its store has amassed 108 million PC customers who have spent $680 million since launch.
Looking ahead, it promised "tons of amazing titles coming exclusively to the Epic Games Store in 2020" plus "many more cross-platform games" like Fortnite and Dauntless.