KFC awards Zelda player $10k chicken trophy for '11 herbs and spices' speedrun
The Recipe Run tasked players with cooking chicken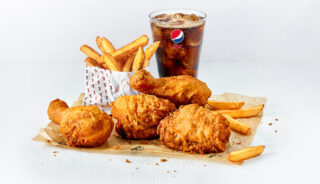 KFC created a golden chicken trophy for a player who beat its bespoke speedrun for The Legend of Zelda: Tears of the Kingdom in the fastest time.
The Spanish arm of the fast food company launched The Recipe Run, a speedrun inspired by its 'original recipe' chicken, the coating for which is famously made of a secret blend of 11 herbs and spices.
To win the competition, players had to show that their inventory was empty, then travel to the Bedrock Bistro restaurant in the game.
There they had to speak to a Goron called Gomo, who looks similar to KFC founder Colonel Sanders (KFC referred to him as 'The Goronel' in the speedrun rules).
After talking to Gomo, players had free reign to explore the land with the aim being to collect one raw bird drumstick, oil and 11 different herbs or spices.
They then had to cook fried chicken, at which point the run would end.
Players were allowed to use teleports, but they weren't allowed to use glitches or buy any of the ingredients (except for the oil), they had to find them in the game world.
The competition was held in collaboration with speedrunning community Speedrun Espanol, and the winner was French player Keuss, who completed the run in 1:07.800.
According to KFC, the player received, as a prize, a gold trophy in the form of a chicken thigh valued at € 11,000.
The Legend of Zelda: Tears of the Kingdom was released on May 12 and sold 10 million copies worldwide in its first three days, according to Nintendo.
This made it the fastest-selling game in the history of the series, and the fastest-selling Nintendo game for any system in Europe and the Americas.
Related Products
Other Products
Some external links on this page are affiliate links, if you click on our affiliate links and make a purchase we might receive a commission.