Keanu Reeves stars in Cyberpunk 2077's debut television ad
Reeves plays "legendary rockerboy" Johnny Silverhand in the upcoming action-RPG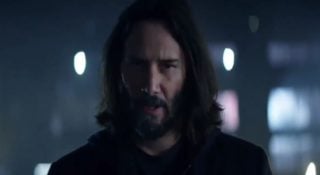 Actor Keanu Reeves stars in Cyberpunk 2077's debut advertising spot, which aired on US television on Wednesday.
"In Night City you can become anyone," Reeves says in the ad. "If your body can pay the price."
The Matrix and John Wick star was unveiled as a Cyberpunk 2077 character during the E3 2019 Xbox press conference, best remembered for his interaction with an audience member.
Reeves plays "legendary rockerboy" Johnny Silverhand. In a follow-up interview, the actor said he doesn't think games need Hollywood stars to legitimise the medium.
"If anything, I'd say it's gone the other way," he told the BBC. "It's more of the influence gaming's had on… let's call it Hollywood. Certainly with the Marvel universe, right?
"But then gaming probably started in the beginning with Hollywood, so I think these technologies have been talking to each other."
Developer CD Projekt Red attracted criticism this week for telling its development staff they would need to work mandatory six-day weeks ahead of Cyberpunk 2077's November release. Last year the company claimed that it operated a "non-obligatory crunch policy".
Responding to a Bloomberg report on Wednesday, CD Projekt Red studio head Adam Badowski claimed that "the majority of the team" understood the need for the mandatory extra work day.