Katsuhiro Harada wants to make a new Pokkén game
But any potential sequel is up to 'what Nintendo and Pokémon Company decide'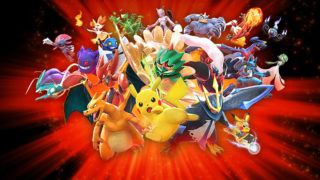 Bandai Namco's fighting games boss Katsuhiro Harada has said he'd like to create a sequel to Pokémon fighting game Pokkén Tournament.
First released in Japanese arcades in 2015 (followed by Wii U and Nintendo Switch versions in 2016 and 2017), Pokkén combines gameplay elements from Harada's Tekken series with characters from the Pokémon franchise.
Across both Wii U and Nintendo Switch, Pokkén has sold over two million copies, according to its publisher Nintendo.
Harada – who is one of the most senior creatives at Bandai Namco – expressed fond memories for the crossover on Twitter this weekend. Asked by a fan if he'd like to work on the series again, Harada said the decision was ultimately up to Nintendo and The Pokémon Company.
"We have a good relationship with Nintendo and Pokemon Co., Ltd., and Pokkén has had a great response, so I would like to make it again," he wrote. "But it's not what we decide, it's what they decide."
Pokkén's enhanced "DX" port for Nintendo Switch added new characters, modes and splitscreen mulktiplayer. The title was supported with two DLC packs in 2018, which added new Pokémon fighters such as Aegislash and Blastoise.
Bandai Namco has struck up a strong partnership with Nintendo in recent years, having co-developed the most recent Super Smash Bros. games and the upcoming Pokémon Snap.
Last November, The Pokémon Company began teasing plans for a "very special upcoming celebration of Pokémon's 25th anniversary in 2021".
As revealed on an anniversary website last week, The Pokémon Company will be collaborating with singer Katy Perry, releasing special merchandise, and reprinting classic Pokémon cards.
New Pokémon Snap, the Switch sequel to the classic N64 game, will be released on April 30, Nintendo also announced on Thursday. According to reports, TPC could also be planning to release Switch remakes of Nintendo DS games Diamond and Pearl.