Katamari creator's new game dated for PS4 and PC
Keita Takahashi's Wattam releasing in mid-December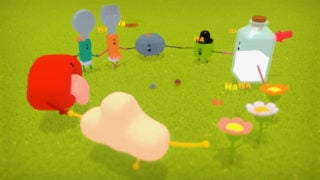 Wattam, the new game from Katamari Damacy and Noby Noby Boy creator Keita Takahashi, will be released on PS4 and PC via the Epic Games store on December 17.
Developed by Funomena and published by Annapurna Interactive, Wattam's described as a game "about the joys of friendship and discovery".
Playable solo or via same-screen co-op, it features over 100 characters to unlock and befriend.
Annapurna says the game is currently available to pre-purchase at the discounted price of £13.99.
In a new PlayStation Blog interview, Takahashi said of the title's soundtrack: "We have tried making an interactive music system in Wattam. Each location ('locations' are also 'people' though) has its own music, and every person has its own instrument sounds. So you can listen to different music and instruments by selecting different people and being at different locations.
"And if you connect to other people, all instrument sounds are mixed well with the music, which you might need to pay attention to in order to notice that change, but it's fun, and you might want to connect with all people to hear all the different music."
The PC version of Wattam was announced as a timed Epic Games store exclusive in August.
The following trailer was released on Monday to accompany the game's release date announcement: