Kanye West reportedly pitched a game to Shigeru Miyamoto: 'He couldn't believe it'
Mario's creator is said to have called the prototype "very moving"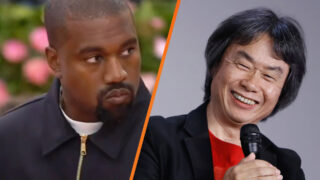 Kanye West reportedly pitched an unreleased game about his mother ascending to heaven directly to Nintendo legend Shigeru Miyamoto at E3 2015.
The rapper and fashion designer would go on to publicly announce the game, 'Only One', during an event in New York in February 2016.
The game's title was the same as the 2014 song West wrote about his daughter North, told from the perspective of his late mother, Donda West.
"I'm working on on a video game and I wanted to show y'all," West said when he announced the game. "The idea of the game is my mom travelling through the gates of heaven."
Prior to the game's public reveal, it's claimed West attempted to persuade Nintendo to take on the project by speaking to Miyamoto himself
Former IGN employee and current Twitch lead community producer Zachary Ryan claimed on Friday that in early 2016, he travelled to New York to interview Miyamoto for Star Fox Zero.
When West's name came up during a conversation Ryan was having with a Nintendo representative about the rapper's new album, Miyamoto reportedly overheard and began recounting an anecdote about the previous E3 via his translator.
"He said that Kanye had shown up at the Nintendo booth unannounced and asked for an audience with Miyamoto specifically, right then and there," Ryan tweeted.
"He went on to say that Kanye showed him the prototype for a video game. In it, you played as Kanye's late mother flying to heaven, set to a soundtrack conducted by Kanye himself."
He added: "He was shaking his head as he described it, not like he thought it was a bad game… but more so in the way that he just sorta couldn't believe that Kanye West was pitching him a video game."
After describing the look of the game and how it played, Miyamoto reportedly said he was moved by the pitch.
"At the end of the story, he nodded and said 'it was very interesting'. There was a long pause and he added 'it was very moving'," Ryan recalled.
"Then he laughed REALLY hard and said 'Kanye West wanted to make a game with Nintendo' and then, in English, 'Wow!' and gave me two thumbs up."
Ryan added: "I fucking lost it. I laughed so hard. What an absurd turn of events. Not only that it happened but that the story was relayed to me in this VERY SPECIFIC way."
The Twitch employee said West announced Only One some two weeks after his interview with Miyamoto.
Related Products
Other Products
Some external links on this page are affiliate links, if you click on our affiliate links and make a purchase we might receive a commission.