Kamiya tells fans not to worry about Bayonetta 3, despite its three-year silence
"Development is progressing smoothly"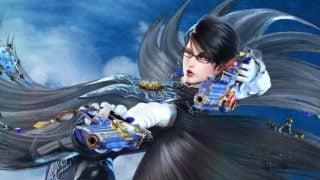 Platinum Games designer Hideki Kamiya has provided an update on Bayonetta 3, which he insists is progressing smoothly despite a three-year information blackout.
The Nintendo-published action sequel was first announced via a brief teaser at The Game Awards in December 2017, but nothing has been seen of it since.
Speaking to Famitsu as part of a wide-ranging 2021 update from Japanese creators, Kamiya yet again told fans to be assured that Bayonetta 3 is progressing well – one of several times he's made such a statement since the game's announcement.
"There are many people who are worried about Bayonetta 3 because there has been no new information since its original announcement, but the verification of new systems has been successful and the development is progressing smoothly, so please don't worry," he said.
Kamiya also provided an update on Project GG, the action game featuring a giant hero described as the "climax" to his superhero trilogy, following Viewtiful Joe and The Wonderful 101.
"Project GG has finally started progressing, so please look forward to it as well," Kamiya told Famitsu. "Efforts for in-house IP works have begun to take shape little by little. As always, we believe in our uniqueness and would like to move forward in the new year."
Asked in 2019 if the lengthy silence surrounding Bayonetta 3 was indicative of Platinum's grand ambitions for it, studio head Atsushi Inaba told VGC: "Yes, it's going to be a high quality title and we're putting our all into it," Inaba said. "That is what you're seeing [with the silence]."
The studio head previously revealed that Platinum was trying to move away from "an orthodox development process" with Bayonetta 3.
"With Bayonetta 1 and 2 we had basically an orthodox development process, at least for us," he told VGC. "We did stage one, then stage two, then stage three and built up the drama and the pacing chronologically.
"For Bayonetta 3, we can say that we learned enough from making the past two games to change our process in a way that's different to what I just described."
2020 was an eventful year for Platinum. In the 12-month period, the Osaka-based studio launched a Kickstarter, revealed its first wholly-owned new IP, committed to building a new in-house game engine, and announced a brand new Tokyo studio focused on "live ops" games.