Justin Roiland explains how he got away with putting 'Space Applebee's' in High On Life
The Justin Roiland game is full of in-jokes and references to pop culture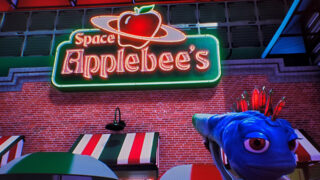 High on Life director Justin Roiland has explained his use of 'Space Applebee's' in High on Life as a parody, when questioned on its inclusion by a fellow developer.
High on Life, a first-person shooter developed by Squanch Games, which was released earlier this week, is full of references and in-jokes. These include self-referential quips about video game cliches, name-dropped games media outlets like IGN and Kotaku, and some more direct references to real-life brands.
This was highlighted by Gears of War creator Cliff Bleszinski, who took to Twitter to post a screenshot of the in-game restaurant Space Applebee's (a not-so-subtle homage to the American restaurant Applebee's) with the caption, "How the hell did they do this legally?!".
In response to this, Kinda Funny's Greg Miller, who had hosted Roiland on Kinda Funny Games Daily earlier that day, asked the creator how he was able to include it in a video posted to Twitter.
Roiland responded, "…it's parody … it's a parody," to which Miller responds, "oh f**k, you're going to jail."
In US law, a parody typically takes a piece of creative work, such as art, music, film, or literature, and recreates it in an exaggerated comic fashion. In the United States, parody is protected by the First Amendment as a form of expression.
According to Cornell University's Legal Information Institute, "The fair use exception is governed by the factors enumerated in section 107 of the Copyright Act: (1) the purpose and character of the use; (2) the nature of the original work; (3) the amount and substantiality of the original work used; and (4) the effect on the market value of the original work.
"Generally, courts are more likely to find that a parody qualifies as fair use if its purpose is to serve as a social commentary and not for purely commercial gain,"
Since the inclusion of a fictional restaurant in a first-person shooter game is unlikely to impact the market value of Applebee's brand, nor is it a contributing factor in the commercial success of the video game, the use is likely protected in that sense.
In reality, much of Roiland's work, including the massively popular Rick and Morty cartoon, employs this kind of referential and parody humor to very little or no backlash, so it's unlikely the game would be affected unless the company in question found substantive evidence that the use of Space Applebee's fell outside the realm of parody.