Just Stop Oil protestors interrupt UK's biggest games event EGX
Several monitors were reportedly vandalised during a tournament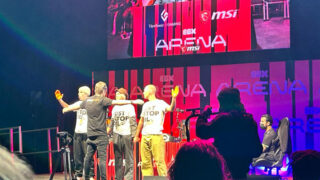 The UK's biggest gaming event has been interrupted by protestors from Just Stop Oil.
According to multiple people who attended EGX in London on Sunday, during the final of a Tekken tournament, group members rushed to the stage and covered the monitors with orange paint.
Images from the event show the protestors being surrounded by security guards.
Three members of the group appeared on stage and began to spray orange paint. They then began to give a speech to the crowd, before being swiftly removed by security.
VGC has contacted the organizers of EGX for further comment and will update this story should we receive one.
A Just stop Oil spokesperson said:
"Video games let us escape into new and exciting dimensions, but real world physics are about to deliver the deaths of billions. Put more carbon into the atmosphere at this point and it's game over.
"Gamers co-operate to win, and we need these skills to survive. Everyone must step up and join in civil resistance against new oil and gas, because this isn't a game. Let's unite to make this world safe, so that we can get back to exploring cyber worlds."
Just Stop Oil is a prominent environmentalist group based in the UK. It has gained widespread notoriety in recent years for its use of non-violent resistance, traffic obstruction, and vandalism.
The group wants the British government to commit to ending new fossil fuel licensing and production. While the group has strong support for its message, its methods have received criticism.
The group gained attention for several instances of vandalism in which it used bright orange paint on government buildings, as well as on prominent pieces of art.
EGX is a yearly gaming event held by Reedpop. The event, which takes place from London's Excell Center, sees thousands of gamers descend on the venue to try out unreleased games, watch panels and take part in tournaments.