Just Cause 4 and Wheels of Aurelia are now free on the Epic Games Store
They'll be replaced by For The King next week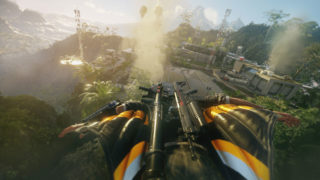 Just Cause 4 and Wheels of Aurelia are now free to download from the Epic Games Store.
Open-world action title Just Cause 4 is normally priced at £23.99 on Epic's digital marketplace, while narrative road trip game Wheels of Aurelia usually costs £7.19.
They'll be available free of charge until 11am ET / 8am PT / 4pm UK on April 23, when they'll be replaced by For The King, Epic said on Thursday.
Developed by IronOak Games and published by Curve Digital in 2018, the PC version of For The King has a Metascore of 79 on review aggregation site Metacritic based on 11 reviews.
"For The King is a challenging blend of strategy, turn-based combat, and roguelike elements," reads its Epic Games Store listing. "Each playthrough is unique with procedural maps, quests, and events."
The Epic Games Store's weekly free game promotion, which launched alongside the storefront in December 2018, will run throughout 2020.
Epic Games recently launched its own publishing label with upcoming projects from Remedy (Control), Gen Design (The Last Guardian) and Playdead (Inside). Epic Games Publishing will offer "the most developer-friendly terms in the industry" so that creators can "focus on making great games", the company said.
The terms of its publishing deals include full creative freedom and IP ownership for developers. Epic will front all development costs and share profits 50/50 once these costs have been recouped.