Journey to the Savage Planet's expansion is an Xbox timed exclusive on console
Colourful FPS available on Game Pass today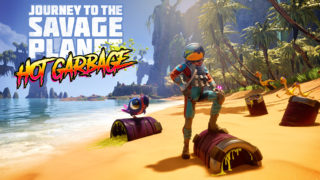 Publisher 505 and developer Typhoon have announced the first expansion for colourful FPS adventure Journey to the Savage Planet.
Savage Planet is the debut game of Montreal-based Typhoon, the company that was acquired by Google Stadia earlier this year.
The game's Hot Garbage expansion sees players travel to new alien planet DL-C1 and tasks them with investigating reports of strange spikes in pollutants at Kindred Aerospace's new interstellar waterfront resort.
After discovering robotic representatives from rival Vyper Corp. are using Kindred's resort as a toxic waste dump, players will explore and report their findings back to corporate headquarters.
Players will unlock new upgrades to gear and abilities including lead boots for adventuring underwater, a specialised Kindred suit for traversing toxic areas, an unlimited stamina ability for endless sprinting and more.
The expansion will release on Xbox One and for PC via the Epic Games Store on Wednesday, April 15 for $7.99 / £7.99. A PlayStation 4 release will follow "soon", publisher 505 said.
From today Journey to the Savage Planet will be added to Xbox Game Pass for console.
In VGC's Journey to the Savage Planet review our critic said: "Typhoon's 30-person team should be applauded for creating a confident and inventive adventure in a crowded genre, and with their debut title no less."