Journey to the Savage Planet shows first gameplay
'First-person exploration game' is former Ubisoft devs' debut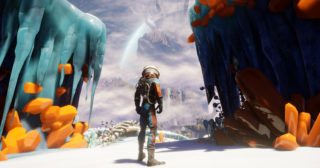 Typhoon Studios, the Montreal-based company formed by former Ubisoft developers, has revealed the first gameplay video for its debut title, Journey to the Savage Planet.
Journey to the Savage Planet is described as "an aspirational and upbeat first-person adventure and exploration game" set in a bright and colourful alien world.
As an employee of Kindred Aerospace, "the 4th Best Interstellar Exploration Company," players are dropped onto the uncharted planet AR-Y 26 and invited to explore, catalogue alien flora and fauna and determine if this strange planet is fit for human habitation.
The game is currently planned for release on PlayStation 4, Xbox One and PC in early 2020.
"As a studio we have a deep love of Golden Age science fiction, but it feels like some of the positivity and sense of adventure has been lost in recent years," said Alex Hutchinson, creative director and Typhoon Studios co-founder.
"There are too many dystopias for my tastes, so we wanted Journey to the Savage Planet to give space exploration its sense of adventure back in homage to those early sci fantasies and add a comedic twist. This teaser is just a small taste of what we've been working on; we can't wait to show off more in the coming months."