Journalists have finally been able to compare PS5's size to other consoles
At more than 15 inches wide, the PS5 hardware is Sony's biggest console to date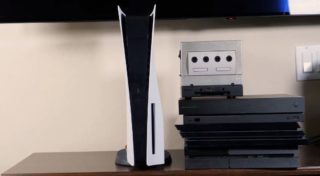 US-based media outlets have been able to compare the size of PlayStation 5's retail hardware to other consoles.
A new video from GameXplain places a retail PS5 next to PS4 Pro, Nintendo Switch, Xbox One X and more, showing exactly how Sony's sizable next-gen machine compares to already-available console hardware.
In a separate article, The Verge compares PS5 to the Xbox Series X, showing that Sony's next-gen console is indeed slightly larger than its rival.
"While the PS5 towers over the Xbox Series X when stood vertically, it's thinner when you lay it down," the publication said. "That will mean you can slot the PS5 into TV stands where you can't squeeze an Xbox Series X."
At more than 15 inches wide, the PS5 hardware is Sony's biggest console to date and larger than even its next-gen rival Xbox Series X.
Otori Yasuhiro, the head of PS5's mechanical and thermal design team, recently told Japanese publication Nikkei that PlayStation 5's large cooling fan is what determined the console's overall size.
At 45mm tall, even the PS5's cooling fan is thicker than a standard PS4 console, as demonstrated in an official PS5 teardown video last week.
Yasuhiro explained in an interview that a large fan was required in order to cool both sides of PS5 console's main board equally.
The engineer claimed that the PlayStation 5 console could have been smaller in size if Sony had opted to install two smaller cooling fans instead – one for each side of the console.
"It was possible to develop the PlayStation 5 to be smaller. For example, by implementing two cooling fans, one for side A and side B, the PlayStation 5 size would have been reduced," Yasuhiro said.
"However, there is naturally an additional cost associated with having two fans. Additionally, controlling the functionality of two fans is more difficult than just one. With these additional obstacles in mind, we decided to cool both sides of the main board with one, large fan."