Journalist compares Doom Eternal's 'remarkable' Switch port to PS4 Pro
Nintendo version is out today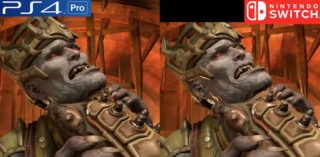 A media outlet has compared Doom Eternal's Nintendo Switch port to its original PlayStation 4 Pro release and called the new version "remarkable."
Doom Eternal released for Nintendo Switch on Tuesday, ported by Panic Button, the studio behind the well-received Switch port of Doom 2016.
Game Explain has managed to edit a video comparing the new version and editor André Segers highlighted the favourable results in a tweet on Tuesday.
"Panic Button must be wizards. It's remarkable the game runs on Switch at all, let alone look this good whole doing so," he wrote.
Doom Eternal is available digitally via the Nintendo Switch eShop. According to publisher Bethesda, there are currently no plans for a physical version on Switch.
Both single-player and Battlemode are included in the Switch version, along with a motion aiming control option which utilises gyro controls. This can also be used in combination with the control stick, according to Bethesda.
Eternal was released for Xbox One, PS4 and PC in March this year. Bethesda claimed Id Software's shooter doubled the launch revenue of the previous series entry, 2016's Doom, although it didn't offer specific figures.
VGC's Doom Eternal review said "Id delivers another relentlessly entertaining single-player campaign that's one hell of a stress buster."