Plans to release a game console for dogs revealed
The project is designed to offer health benefits for pets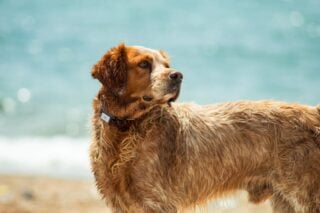 Plans to release a console tailored for dogs have been detailed by a start-up called Joipaw.
The company is the brainchild of friends and co-founders Dersim Advar and Marco Jenny, who describe themselves as "animal lovers, gamers and scientists".
As reported by Axios, the Joipaw console lets dogs play games designed to provide both physical and mental stimulation for man's best friend.
While it was initially conceived as a means of alleviating boredom and separation anxiety for the co-founders' puppy when it was home alone, Joipaw claims the console has the potential to offer cognitive benefits for dogs too, and could even be used to help delay the onset of canine dementia
Dogs use their nose to play on the console's touch screen and are rewarded for correct choices via an integrated treat dispenser.
Joipaw games include a whack-a-mole challenge and a test to see if dogs can pick which side of an image contains more bubbles.
Advar told Axios he also also wants to make a game which sees dogs and human players compete against each other to avoid hedgehog's spikes.
Joipaw's website claims: "Our company offers a holistic approach to preventative dog health care. We combine both cognitive and physical stimulation in the form of a dog-tailored console, a wearable and a software platform which allows you to track your dog's health indicators.

"Joipaw alerts you early if any abnormal behaviour is detected, and our goal is to share this data with your vet to enable better diagnostics before potential complications."
A Joipaw launch window hasn't been confirmed, but its makers say players can put down a fully refundable deposit of around $6, which will entitle them to a 5% discount on the final purchase price.