Jeff Bezos praises New World launch: 'after many failures, we have a success'
"Whatever your goals are, don't give up no matter how hard it gets."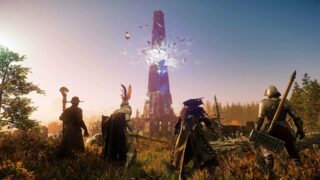 Amazon founder Jeff Bezos has publicly praised this week's launch of MMO New world, calling it the company's first success in gaming.
According to SteamDB, New World attracted as many as 801,642 concurrent players on its release day on Tuesday, and at the time of publishing, it's currently the second most popular game on Steam.
Only four titles have ever attracted more concurrent players: PUBG Battlegrounds (3,257,248), Counter-Strike: Global Offensive (1,308,963), Dota 2 (1,295,114) and Cyberpunk 2077 (1,054,388).
The game's start will be encouraging for Amazon, which has struggled to penetrate the competitive video games market.
New World: Launch Trailer
Development of the company's team-based shooter Crucible officially ceased in October 2020, just five months after the game's launch, following its struggle to attract a significant player base.
More recently Amazon cancelled a Lord of the Rings MMO, reportedly because of a dispute with Tencent, the parent company of the title's co-developer Athlon Games.
On Friday, Amazon founder Bezos acknowledged New World's successful launch and called its previous game efforts "failures and setbacks".
"After many failures and setbacks in gaming we have a success," he wrote. "So proud of the team for the persistence. View setbacks as helpful obstacles that drive learning. Whatever your goals are, don't give up no matter how hard it gets."
Bezos went on to post a Bloomberg article from January, documenting Amazon's struggles in the game space. "The two articles are only 8 months apart," he wrote.
On Friday Amazon Games released a statement saying it was "surprised" by the number of players who flocked to New World during its launch week.
Since launch day, Amazon has doubled the number of servers powering the MMO and it will continue to increase capacity, it said. It's also working on a feature that will allow players to transfer their characters to a different server.