Japanese developer claims it 'still needs to test' if its PS4 games work on PS5
Hamster Corp says Arcade Archives titles will run, but claims others are being checked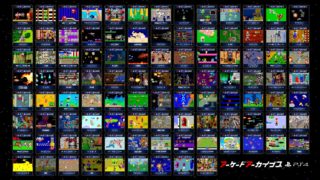 Hamster Corp, the Japanese developer behind the Arcade Archives console ports, has claimed that it's yet to confirm if some of its PS4 game lines will run on PS5.
The Tokyo-based company confirmed in a Twitter post on Monday that the 100+ titles in its Arcade Archives range would work on PS5, but that it was continuing to test the library of ACA Neo Geo titles, as well as the Japan-only puzzle series from Nikoli.
Last month Sony released a list of PS4 games not playable on PS5, which included just 10 titles, none of which were Arcade Archives games. At the time, Sony said the list was subject to change and excluded demos, media, and non-game applications.
While Sony claimed that "the overwhelming majority of the 4,000+ PS4 games are playable on PS5 consoles," it also noted that "some PS4 games may exhibit errors or unexpected behaviour" when played on the next-gen system.
Hamster's comments follow a retracted statement from publisher Ubisoft last week, which claimed that a number of its current-gen games were not backwards compatible on PlayStation 5, despite not appearing on Sony's exclusion list.
Ubisoft originally claimed that nine of its current-gen releases would not be backward compatible on PS5, including Assassin's Creed Syndicate and Star Trek Bridge Crew, but it quickly pulled this statement following its circulation on news sites.
Sony recently explained how game transfers and game saves work between PS4 and PS5. Transferring PS4 saves to the PS5 version of the same game is down to individual developers, meaning the ability to do so will vary title by title.
Select PS4 games will benefit from the PS5 console's Game Boost, which may make PS4 games run with a higher or smoother frame rate. Ghost of Tsushima will utilise PS5 Game Boost to support frame rates up to 60fps.