Japan Game Awards names Animal Crossing as 2020's best game
Plus Baba is You wins Game Designers Award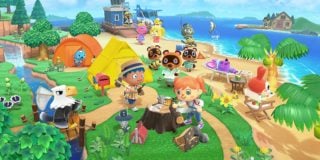 Animal Crossing: New Horizons has won the top honour at the 2020 Japan Game Awards.
The hugely successful Nintendo title was named as the Grand Award winner during Saturday's digital ceremony, which is run annually by Japan's Computer Entertainment Supplier's Association.
New Horizons was also one of ten Japanese games given an Award for Excellence, and was named the Minister of Economy, Trade and Industry Award winner, which is given to an individual or organization that has made a great contribution to the growth of the Japanese games industry.
In a statement, CESA said that Animal Crossing "showed the power of entertainment from Japan, acquiring overwhelming support from many users of all ages, from children to senior citizens."
Nine further titles received Excellence awards, including Death Stranding, Persona 5 Royal, Ring Fit Adventure and Yakuza: Like a Dragon.
The Game Designers Award, which is chosen by a panel of nine Japanese creators led by Smash Bros. designer Masahiro Sakurai, was given to Hempuli's Baba is You.
The full list of winners can be found below. Titles released from April 2019 to the end of March 2020 in Japan are eligible for the Japan Game Awards 2020.
---
Japan Game Awards 2020 Winners
Grand Award
Animal Crossing: New Horizons (Nintendo)
Award for Excellence
13 Sentinels: Aegis Rim (Atlus)
Animal Crossing: New Horizons (Nintendo)
Death Stranding (Sony)
Fire Emblem: Three Houses (Nintendo)
Persona 5 Royal (Atlus)
Ring Fit Adventure (Nintendo)
Yakuza: Like a Dragon (Sega)
Special Award
Best Sales Award
Pokémon Sword and Pokémon Shield (The Pokémon Company)
The Minister of Economy, Trade and Industry Award
Animal Crossing: New Horizons (Nintendo)
Global Award – Japanese Product
Pokémon Sword and Pokémon Shield (The Pokémon Company)
Global Award – Foreign Product
Game Designers Award