Ghost of Tsushima and Monster Hunter share Japan's game of the year award
Japan Game Awards judges also honour Mario Kart Live Home Cirtcuit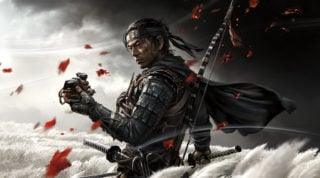 Ghost of Tsushima and Monster Hunter Rise shared the top honour at the 2021 Japan Game Awards on Saturday.
The Sucker Punch and Capcom titles shared the Grand Award during the digital ceremony, which is run annually by Japan's Computer Entertainment Supplier's Association and partially voted for by the public.
Both games were also named among ten titles given an Award for Excellence. The other winners in the category included The Last of Us Part 2, Genshin Impact and Final Fantasy VII Remake.
In a statement, CESA said of Ghost of Tsushima: "With its beautiful graphics, magnificent story and various actions, and overwhelming quality of game music, this work was praised by many users and won the grand prize."
It added on Monster Hunter Rise: "In the public voting, many people called it 'the best game in the series' and 'a great game', and it received overwhelming support and won the Grand Prize."
Koei's Kou Shibusawa was named the Minister of Economy, Trade and Industry Award winner, which is given to an individual or organization that has made a great contribution to the growth of the Japanese games industry.
The Game Designers Award, which is chosen by a panel of nine Japanese creators including Smash Bros. designer Masahiro Sakurai and PlatinumGames' Hideki Kamiya, was given to Nintendo's toys-to-life title Mario Kart Live Home Circuit.
The full list of winners can be found below. Titles released from April 2020 to the end of March 2021 in Japan are eligible for the Japan Game Awards 2021.
---
JAPAN GAME AWARDS 2021 WINNERS
Grand Award
Ghost of Tsushima (Sony)
Monster Hunter Rise (Capcom)
Award for Excellence
Uma Musume Project (Cygames)
Genshin Impact (MiHoYo)
Ghost of Tsushima (Sony)
Sakuna: Of Rice and Ruin (Marvelous)
Resident Evil 3 (Capcom)
Buddy Mission Bond (Nintendo)
Final Fantasy VII Remake (Square Enix)
Momotaro Dentetsu (Konami)
Monster Hunter Rise (Capcom)
The Last of Us Part 2 (Sony)
Best Sales Award
Momotaro Dentetsu (Konami)
The Minister of Economy, Trade and Industry Award
Global Award – Japanese Product
Global Award – Foreign Product
Game Designers Award
Mario Kart Live Home Circuit (Nintendo)