January's PlayStation Plus monthly games are now available
Essential members can claim Star Wars Jedi: Fallen Order, Fallout 76 and Axiom Verge 2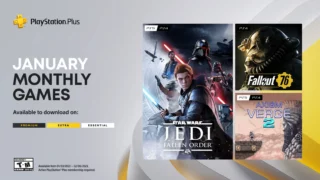 January's PlayStation Plus monthly games are now available for download.
As previously confirmed, this month's PlayStation Plus Essential titles are Star Wars Jedi: Fallen Order (PS5/PS4), Fallout 76 (PS4) and Axiom Verge 2 (PS5/PS4).
The three games will be available to claim from January 3 until February 7.
Essential is the entry-level PlayStation Plus membership tier, which offers subscribers access to a few 'free' games every month.
Players can continue to play these games even after they're no longer available to claim at the end of the monthly period as long as they continue to subscribe to PlayStation Plus Essential (or a higher tier).
Once their membership ends, they'll no longer be able to play these games unless they resubscribe.
January's Game Catalog line-up for PlayStation Plus Extra and Premium members will be announced "soon", according to Sony.
Last month's PlayStation Plus Game Catalog and Classics titles include WWE 2K22, several Far Cry and Yakuza games, Middle Earth: Shadow of Mordor and Middle-Earth: Shadow of War, Ridge Racer 2, Heavenly Sword, Oddworld: Abe's Exoddus and Pinball Heroes.