January's PlayStation Plus games include Shadow of the Tomb Raider
Sony details this month's subscriber downloads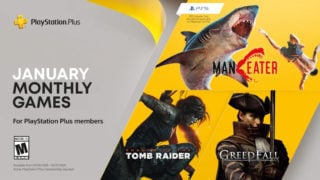 January's PlayStation Plus games include Rise of the Tomb Raider, Sony has confirmed.
The Square Enix action-adventure game will be available to Plus subscribers on both PS4 and PS5 consoles from January 5, along with action RPG Greedfall.
For subscribers on PlayStation 5, Tripwire Interactive's Maneater will also be available at no additional cost. All games will be available until February 1, Sony said.
PS Plus users have until next week to download December's monthly games, which include Worms Rumble, Just Cause 4 and EA's 3v3 shooter Rocket Arena.
PlayStation CEO Jim Ryan recently claimed that Sony hasn't decided if PS5's PlayStation Plus Collection will be expanded beyond its initial launch line-up.
Announced in September, the PlayStation Plus Collection is a library of 20 PS4 games which PlayStation Plus subscribers can play on PS5.
Asked if there are plans to grow the collection, which currently consists of 10 first-party games and 10 third-party ones, Ryan told GQ Sony was taking a wait and see approach.
"Well, we're going to wait and see how the world receives the Plus Collection," he said. "You know, which games are played how much they're played before we make any decisions about that."