It looks like Microsoft is teasing Outriders for Xbox Game Pass
UPDATE: Square Enix loot shooter confirmed for Microsoft's subscription service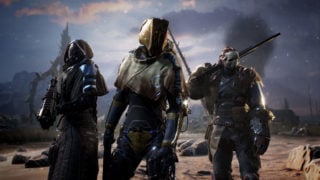 Microsoft is seemingly teasing the release day addition of Square Enix's upcoming Outriders to Xbox Game Pass.
In one of the platform's now traditional mock-email teasers published on its Twitter profile, Xbox states that it will be adding a "new game" to the subscription service, and references "a mysterious signal" and an "anomaly".
This matches with the premise of the People Can Fly shooter, which has players pursuing a mysterious signal and investigating a planetary anomaly.
UPDATE: 15/03/21: Microsoft has confirmed that Outriders will be available on Xbox Game Pass beginning on April 1, which is the title's release date.
ORIGINAL STORY CONTINUES: Originally announced at E3 2019, Outriders is a 1-3 player co-op shooter from the Bulletstorm developer, set for release on consoles, PC and Stadia on April 1, with cross-play across all formats.
The game is described as "a vast, brutal adventure filled with imaginative weapons, satisfying loot, and flexible character development."
There are several character classes to choose from – including the Pyromancer, the Trickster, and the Devastator – each of which has its own unique strengths and abilities. Players can level up their character, customise skills, find loot to upgrade weapons and armour, talk to NPCs to learn about the story, and unlock quests.
Head of Xbox Phil Spencer said last summer that the platform holder was "focused" on bringing more third-party games to Game Pass.
Currently, all first-party Xbox titles are released on Game Pass alongside their general releases, but third-party games typically arrive later, aside from a few exceptions.
Square Enix recently released an Outriders demo which gives players the opportunity to play the first few hours of the game, with all classes available to experience.
This month VGC sat down with game director Bartosz Kmita and lead designer Piotr Nowakowski to discuss their thoughts on what it's been like developing during a pandemic, whether the game will be suitable for single-player gamers and how they're feeling about the public getting their hands on the game.