It looks like Final Fantasy 1-6 Pixel Remasters could be coming to Switch and PS4 soon
The six games are currently only available on PC and mobile, but have now been rated for console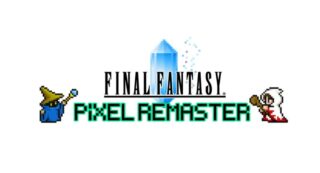 The Final Fantasy Pixel Remaster series may be coming to Switch and PS4 soon.
The ESRB website, which previously only rated the six games for PC, has now added PS4 and Switch to the list of formats.
This implies an announcement that the six games will be coming to PS4 and Switch may be imminent.
The series celebrates its 35th anniversary on Sunday, December 18, which could mark a suitable date for either an announcement or a surprise release.
The first three Final Fantasy Pixel Remasters, individual titles covering Final Fantasy I, II and III, were released for PC and mobile in July 2021.
These were subsequently followed by Pixel Remasters for Final Fantasy IV, V and VI.
At the time of the Pixel Remasters' original release, Final Fantasy brand manager Yoshinori Kitase commented: "Every time a new Final Fantasy title is released, I think there are those who want to return to the origin of the series.
"This project began because we wanted to create a convenient way for fans and new players to enjoy these original classics, with consistent graphics and a unified user interface."
Final Fantasy's original creator, Hironobu Sakaguchi, also provided a statement: "When working on the originals, I didn't think that the Final Fantasy series would be remastered almost 35 years later," he said.
"The video game industry had only just been established. So, with nobody else leading the way, we had to keep moving forward at the front line. I remember how we went through a lot of trial and error at that time. I'm very happy and grateful that Final Fantasy has continued for such a long period of time."
Related Products
Other Products
Some external links on this page are affiliate links, if you click on our affiliate links and make a purchase we might receive a commission.