Interactive series Silent Hill: Ascension starts tonight
The free episode show asks viewers to make daily decisions to shape the story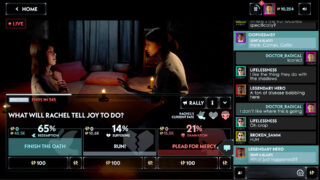 The series premiere of Silent Hill: Ascension starts tonight.
The first episode of the interactive show will stream live at 6pm PT / 9pm ET / 1am GMT.
It can be viewed on the Silent Hill: Ascension website, or on apps available on the App Store and Google Play.
Although the series premiere hasn't started at the time of writing, players can already sign up for a free account on the website or app and make the first decision, which will impact what happens in the first episode.
Players will be able to watch each episode live and make daily decisions that have an impact on the story. Once a decision is made, it's locked in and can't be changed.
Because the shows air live, time zones mean episodes are on in the middle of the night in some regions. As such, each episode will have a 24-hour window, so that players who can't watch live can still watch the episode and make their decisions.
In a statement, developer Genvid Entertainment explained the first decision to be made.
"Silent Hill: Ascension follows the complex lives of two families in peril, including Rachel Hernandez – a rising mystic acolyte, mother and community leader who will perform a ritual on new cult member, Joy Cirelli, who seeks spiritual healing," it said.
"When things go horrifically wrong, should Rachel tell Joy to A) Finish the oath, B) Run or C) Plead for mercy? You – the whole audience – decide! Come back every day to participate in more compelling decisions, which will ultimately determine which of these characters survive to the end of the story."
Although the show is free to watch and take part in, players can customise their appearance in the live chat and leaderboards, and try to win daily cameo appearances in the show.
There is also a paid Season pass which lets players unlock over 100 tiers of rewards, exclusive cosmetics and "Influence Points", which give more weight to decisions.