Insomniac is fixing a mistake in Spider-Man 2 where Miles has the wrong flag in his house
The Puerto Rican character has a Cuban flag on his wall at home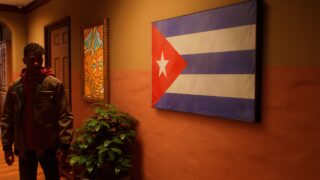 Insomniac Games is fixing a factual error in Spider-Man 2 which led to Miles Morales having the wrong flag on his wall at home.
Players have pointed out that Miles has a large flag draped on one of the walls of his house, and that it appears to be the national flag of Cuba.
However, Miles and his family have no connection to Cuba, and are Puerto Rican instead.
The flags of Puerto Rico and Cuba have a similar design, with each featuring five stripes, a triangle on the left-hand side and a star in the middle. Their colours are different, however, with the Cuban flag having a red triangle and blue stripes, and the Puerto Rican flag having a blue triangle and red stripes.
As such, it would appear the issue was one of human error, with the wrong flag being placed on Miles' wall by mistake.
Insomniac director of community and marketing James Stevenson has confirmed on Twitter that the team is working to fix the mistake in a future patch.
Responding to a follower who brought up the issue, Stevenson replied: "Fix is coming for that."
Further exacerbating the mistake is the fact that the game actually has an alternate suit for Miles Morales which is designed like the Puerto Rico flag, but with the correct colours this time.
Insomniac has previously said that it's working on a New Game Plus mode and a mission replay feature which are expected to be added to the game in an update later this year. The flag error will likely be fixed in a patch long before this, however.
Marvel's Spider-Man 2 was released on 20 October to widespread critical acclaim, making it one of Insomniac's highest rated games to date.
VGC's Spider-Man 2 review calls it "an incredibly confident sequel and one of 2023's best games".
Header image credit: @Jbandos