Insomniac has offered a new look at Spider-Man 2's Venom
The studio will reveal new details about the game during a Comic-Con panel this week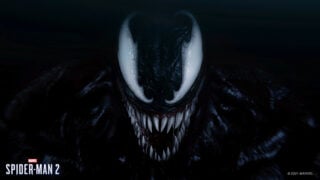 Insomniac Games has provided a fresh look at Marvel's Spider-Man 2 villain Venom.
A new screenshot of the character can be seen below, via Entertainment Weekly, which spoke to some of the game's developers ahead of a bigger Comic-Con reveal later this week.
Candyman actor Tony Todd will be voicing the symbiote-fueled Venom in the upcoming PS5 sequel.
Insomniac creative director Bryan Intihar told EW that he put off casting the character "for as long as possible, because I was so scared of who we were going to get to do the voice".
He added: "We knew it would be so anticipated and people would have a lot of opinions on it."
Thankfully for Insomniac, Todd decided to submit an audition tape for Spider-Man 2.
"Everything we talked about [with] Venom — that sense of strength, that sense of fear, that sense of overwhelming, so different from Peter — Tony embraces that completely in the performance," Intihar said.
Senior art director Jacinda Chew also discussed the character's visual design.
"One of the challenges we had throughout production was, how much does [Venom] talk?" she said. "I remember we did some concepts early on [of] does Venom have lips? Does he laugh? Does he smile? Does he frown? It's a fine line between making this creature scary and intimidating, but then also, I guess, relatable."
Along with other developers and key cast members, Intihar and Chew will be hosting a Spider-Man 2 panel at San Diego Comic-Con on Thursday.
Insomniac released the first Spider-Man 2 gameplay video in May, revealing several new features as well as another key villain, Kraven the Hunter.
Publisher Sony started taking pre-orders for the game last month, shortly after announcing a Spider-Man 2 release date of October 20, 2023.