Infinity Ward has pledged to crack down on racist Call of Duty user content
Developer says it's making "thousands" of bans each day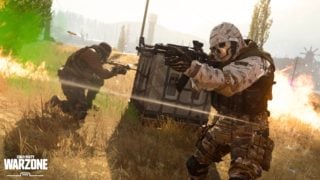 Infinity Ward has pledged to crack down on racist and hate-orientated Call of Duty user content.
In a statement published on Wednesday, the developer acknowledged that it needed to do a better job at policing its community, despite claiming to issue "thousands" of daily bans for racist usernames.
"There is no place for racist content in our game," it said. "This is an effort we began with launch and we need to do a better job. We're issuing thousands of daily bans of racist and hate-oriented names. But we know we have to do more".
Infinity Ward said it would add additional resources for in-game reporting systems and to monitor and ID racist content. It also pledged to add filters and greater restrictions on name changes, increase permanent bans to root out repeat offenders and evaluate in-game improvements to make it easier to report offences.
"We apologise to our players. This is our commitment to your, our fans, thank you."
Earlier this week Call of Duty's upcoming Warzone and Mobile seasons were delayed in support of anti-racism protests in the US. In a statement, publisher Activision said it wasn't the right time to debut new content.
"Right now it's time for those speaking up for equality, justice and change to be seen and heard," it said. "We stand alongside you."
Call of Duty Warzone and Modern Warfare Season 4 was due to start on June 3, adding campaign star Captain Price as the season's flagship operator.
Call of Duty Mobile Season 7, Radioactive Agent, will expand the battle royale game's map when it launches.