In their debut week, Hi-Fi Rush reportedly outperformed Forspoken on Steam
The surprise Microsoft game reportedly made more revenue than Square Enix's title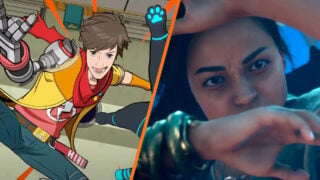 Xbox's surprise release Hi-Fi Rush reportedly outperformed Forspoken on Steam during both games' debut week.
According to the Steam Weekly Global Top Sellers list on SteamDB, which lists the best-selling games on Steam by revenue made, Hi-Fi Rush came in at number 8, while Forspoken didn't make the top 10.
The difference is particularly notable in that Forspoken has been supported with a sizeable marketing campaign, whereas Hi-Fi Rush appeared without any warning or prior reveal as part of last week's Xbox Developer Direct presentation.
As noted by games industry commentator Benji-Sales on Twitter, the fact that Hi-Fi Rush is in the top 10 whereas Forspoken isn't is further amplified by the fact that Microsoft's game costs £26.99 / $30 on Steam versus £64.99 / $70 for Forspoken.
Given that the chart goes by revenue rather than unit sales, Hi-Fi Rush would have to sell a few copies for each copy of Forspoken sold.
However, it should be noted, that SteamDB treats separate versions of each game as different products. As such, for example, the Dead Space remake features four times in the top 10 – the standard edition, the Deluxe edition and the pre-order pages for each.
It's also not clear how many people pre-ordered Forspoken in the period leading up to the past week, or purchased keys for the game from third-party Steam key sellers. These likely wouldn't have counted in last week's revenue chart and could take the game's overall revenue much higher.
The Square Enix title, as well as costing significantly more, also has more demanding hardware requirements on PC, which could skew the sales in Hi-Fi Rush's favour.
Hi-Fi Rush is the latest game from Tango Gameworks, the studio founded by Resident Evil director Shinji Mikami. It's a rhythm action game in which the aim is to time attacks to the beat in order to do more damage.
In VGC's Hi-Fi Rush review, we called it "a bombastic, colourful, occasionally grating rhythm action game".
Related Products
Other Products
Some external links on this page are affiliate links, if you click on our affiliate links and make a purchase we might receive a commission.