'I'm not a big Sony fan, but this is special': Horizon Forbidden West Reviewers Roundtable
VGC's Jordan Middler and Writing on Games' Hamish Black discuss their time with the sequel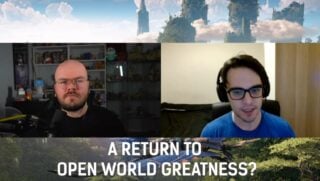 The media embargo has lifted and Horizon Forbidden West reviews are live across various publications.
Following numerous Pandemic-induced delays, the Guerrilla Games sequel will finally release for PlayStation 5 and PlayStation 4 on Friday, February 18.
Ahead of reviews going live, VGC's critic Jordan Middler and Hamish Black of popular YouTube channel Writing on Games linked up to discuss their thoughts on Forbidden West, after dozens of hours reviewing it for their respective publications.
In the video, Black confesses to not usually being a fan of Sony's big, blockbuster first-party games, but he says Horizon Forbidden West eventually won him over. You can watch his own review over on Writing on Games.
Horizon Forbidden West Reviewers Roundtable
You can read VGC's own Horizon Forbidden West review in written form, or our video review.
"When it comes to sequels that are significantly better than the original, a game that often comes to mind is Assassin's Creed 2," Middler wrote of Forbidden West.
"The jump from the first Assassin's Creed to its sequel perfectly represents what a studio can do once it's found its feet with the first instalment of a franchise – expanding on what worked, listening to what its players didn't like, and taking advantage of not having to learn to walk at the same time.
"While Horizon Forbidden West just falls short of replacing Assassin's Creed 2 in this analogy, it gets very close. With better combat, a compelling story and a jaw-droppingly beautiful world, it's an improvement on the original in every way, even if it does hold on to a few open-world tropes that we could have left behind. "